July 20, 2007 - Updated Collection Pics!
I've finally gotten to take updated pics of my collection! YAY! I put them into a slide show, but can't get it to post, so here's the link; Tama Collection Slide Show
I had one pic of non-bandai pets that wouldn't fit into the show. Here it is;
ï 0 Comments ï Permanent Link
July 19, 2007 - Ocean Adult #3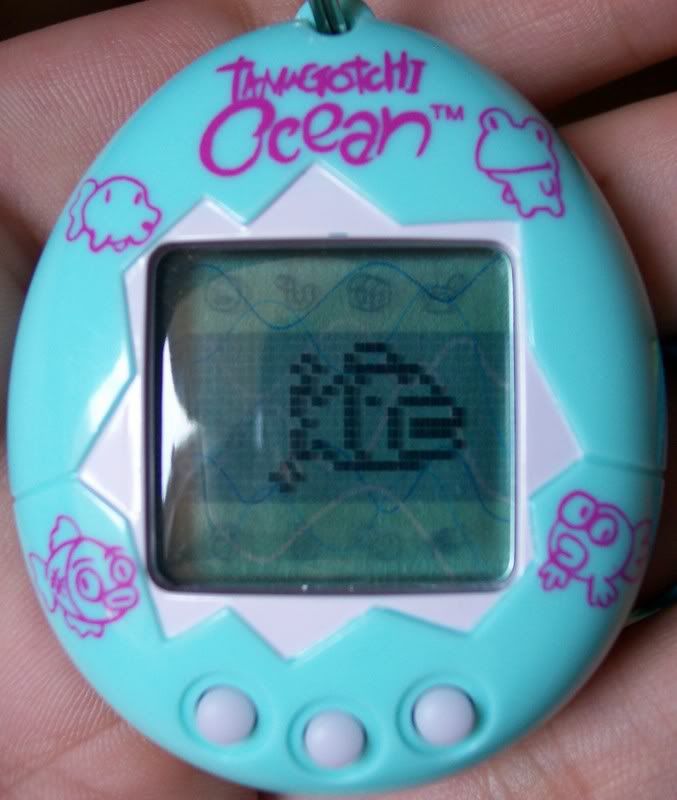 YAY! I got my 3rd adult on an Ocean! This is the 2nd Taiyakitchi I've had, and I also had a KeroPyontchi. I know that you have to miss 2 time-outs to get the bad teen from the toddler stage. I *think* the adult stage character is determined by how full or empty the discipline bar is. I purposfully missed 2 time-outs at the teen stage trying to get a different adult, but in the end, the bar was still full. After this run, I'll try again for a different adult, missing all possible time-outs should I get to the teen stage again.
ï 1 Comments ï Permanent Link
June 6, 2007 - Tribute to Aaron
Aaron was hatched March 15th, 2006. He was hatched for the sole purpose of seeing just how long a new generation tamagotchi could live. His home was a translucent pink V3 shell, which he ended up calling "home" for 145 tama years. He died on August 7th, 2006. To date, Aaron is the longest lived tamagotchi that we know of with record and proof of his age. I became very attached to him over the months. He became more than just a Virtual Pet. I know it sounds goofy, but Aaron was one thing I looked forward to every day.
It was really all my fault that he died. See, I was in a time zone one hour behind my own(on vacation), so Aaron went to bed at 7pm and got up at 6am (instead of 8pm and 7am). I should have changed his clock to match the area I was at. However, in keeping with the "never pausing, never messing with the time" thing, I didn't. The night before he died, I had gotten busy with family and missed checking him before he went to bed. When I did check him, there he was, fast asleep with poo beside his bed (for the first time ever I may add). I then checked his stats and he had gone off to sleep with only 1 hungry heart and 2 happy hearts full. I knew I would need to get up early to check on him. Of course, on vacation, I had no alarm clock to wake me up. I overslept. When I did finally wake at 7:30am, I ran to get Aaron, but it was too late. He had been up for an hour and a half with no one to care for him. Poor Aaron! Although I miss him dearly, I know he is up in Tama-Heaven telling all the young dead tamas stories about how he was one of the longest living tamas ever to have lived on planet Earth. Rest in Tama-Peace my dear Aaron! I will miss you! ~KM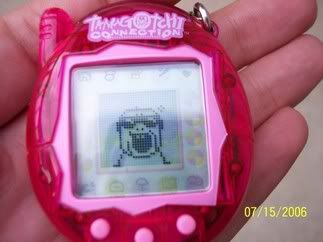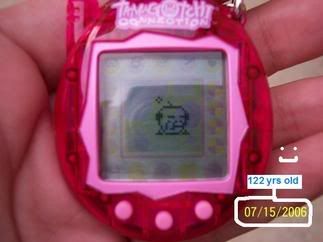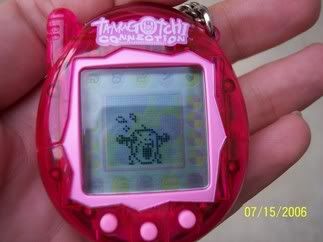 ï 4 Comments ï Permanent Link
June 6, 2007 - 8 Oceans!
As Promised, here are pics of all 8 Oceans!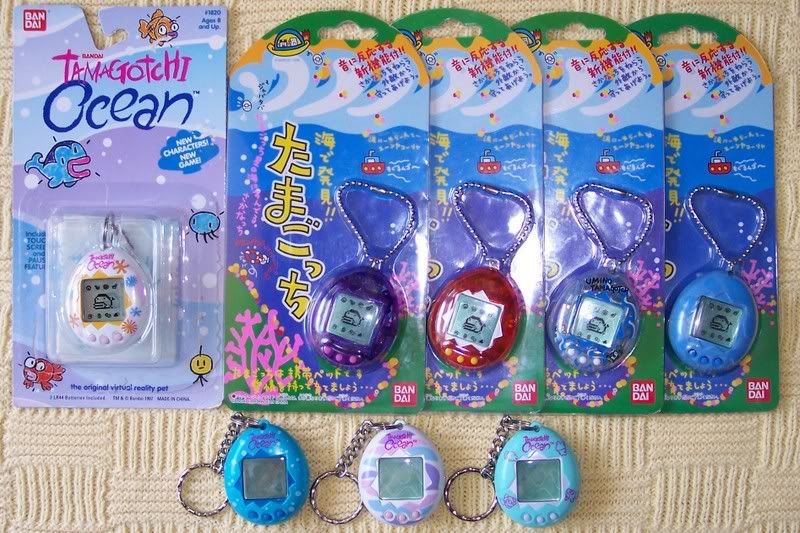 Beautiful! I still can't believe they are mine!!!
ï 3 Comments ï Permanent Link
June 3, 2007 - I GOT IT!!!!
YES! I finally got the last Ocean I needed to complete my Ocean Family! I am so excited! Hopefully, I will be able to get updated collection pics today. It's rainy outside so I don't have the best light, but I can try!
Sorry I haven't posted or been around in so long. I've had to deal with some personal things recently and it has not been easy. Including a medical diagnosis. I don't want to get into that here, but if you look at my avvie on TT, you will see a teal awareness ribbon above Kuchipatchi. That's part of what I have been dealing with, although the teal ribbon stands for at least 5 different things.... Anyways, enough bumming for now! I'll get pics of the entire collection up ASAP!!!
ï 0 Comments ï Permanent Link
March 29, 2007 - Trying something
Okay, so you know how you can start an Angel, set the time, turn the sound off, and put it away for a week, then when you come back it has evolved into Lucky Unchikun? Well, I am trying something like that with my Ocean. I set the time, turned the sound off, and am not touching it. I started it at 10:42am this morning. It is now 6pm and it is still alive! One would have thought that with as needy as these guys are that he would have died hours ago. It is actually very interesting.... He has had poo and a sick skull beside him since the baby stage. I've seen the polar bear come 3 times now. Each time, he sits just off the screen for 15 minutes, then leaves without attacking. I wonder if he will evolve into a teen in 2 days.....
ï 0 Comments ï Permanent Link
March 28, 2007 - Hehe!
Today is my Birthday! And before you ask, I don't give out my age online
Anywas, I just wanted to show what I got for my b-day! It is from 2 very special someones in my life. Thanks!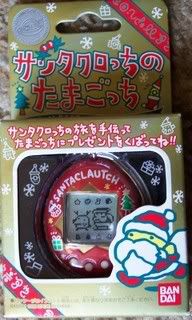 This tama completes my "one of almost everything collection!
YAY!!! I also got a Genji from Chris earlier this month. I've already run that and the info on it can be found in previous entries. Thanks Chris!!!
ï 3 Comments ï Permanent Link
March 23, 2007 - Oceans 7
So, I am trying to collect all the different shell designs of Oceans, both US and Japanese. I have 7 of the 8 now!
I am only missing 1 US design! I really hope I can find it soon! I am missing the teal with pink characters US Ocean. I also have the option of trading for it if I can find a double of either the blue bubbles or seashell US designs. If anyone out there is looking to sell or trade, please let me know!
Here is my happy family. I have named them all! I will post that in a new entry. This one will be crowded as is :-P
The below entry is individual type pics. The top picture is of my 3 US designs, The bottom is all 4 of the Japanese designs.
ï 2 Comments ï Permanent Link
March 13, 2007 - Playing Catch-up
Blogagotchi has been down for a while, and I'm not sure where to begin. Since I ran my genji (thanks again Chris!) I've run an angel, and an ocean, though not much to tell there. I have become so completely obsessed with Oceans! It's crazy! I have gone from running 2 at a time, to looking for one of each shell design. Fortunately, Jason listed the 2 JP Umino's I was listing recently. The red/orang one arrived, and the blue is on its' way.
Once the blue one gets here, I'll get a pic of the 4 of them together. That'll be a great pic!
I'm only missing 2 US Ocean shell designs now. It's driving me nuts not to have them! I am missing the teal with pink characters and the seashell design. It's funny what a person will do to get something that has become an obsession. I am willing to trade just about any tama I have, or a combination of tamas for either of these shells. The only ones I won't trade off are ones that were given to me as presents, or by friends. I must be crazy!
I have officially outgrown my tama tub now too. Tama Tub was retired for a 3-drawer plastic cabinent. It stands right next to my tama cradle workstation. I know, I've lost it.
Obsession=crazy=me
ï 2 Comments ï Permanent Link
About Me
Friends
ï TamaTalk
ï tamagotchirules
ï spiffy
ï GK1
ï Jappyx
ï TamaMum
ï xxsweetxkandixx
ï mistr0
ï Jiro
ï Rachelgotchi
ï Beth
ï Leo14
ï Tamagothchi
ï dachdach
ï fridgos
ï chojinsei
ï tamapal3000
ï Tamalover0312
ï HelloKitty93
ï ducky23
ï Rtt
ï GotchiV3
ï tamafun
ï hebb
ï KG
ï beanotchi
ï mimitchiandhanatchi
ï KCKHRIS
ï jonathansweb
ï kimberly999475
ï JAY942942
ï tamalife
ï CrazyMandie
ï tamagirl96
ï xoxangel
ï angelgotchi
ï tuenman
ï meowbark
ï shawdy1
ï Memetchi
ï SamanthaTheCat
ï xTamaChickie11x
ï Oreo
ï tamagotchifreak90015
ï Jacob
ï MelzaRocks
ï HanatchiHat
ï phi21
ï karr1213
ï mimitchi13123
ï talkforever
ï Tamalover03122
ï itstina
ï AmberBaybee